Category Archives:
International Rap Flavours
New releases, news, videos from USA, Europe and around the globe.
November 4, 2011 – 3:12 am
I still remember hiphop.cn parties at Tango every Thursday back in 08-09…whenever this song came on (which it always did)… the whole house would go nuts.
Everybody would hit the dance floor to bounce around and no-engrish-speaking cats all of a sudden spoke fluent Wu-Tang.
Bizzle!
October 20, 2011 – 9:14 am
Let's stop performing.
Let's stop pretending.
Let's be… UNCOOL.
THE UNCOOL is a free 10-track promotional mixtape, streaming and for download at http://grandmaster.bandcamp.com.

The Special Edition adds 3 full new songs and is accompanied by curated photographs and a commentary and lyrics book, also at http://grandmaster.bandcamp.com ($5 USD).

All profits go to the Red Thread Movement (www.redthreadmovement.org), a project of 501(c)3 nonprofit organization Eternal Threads dedicated to fighting illegal sex trafficking in Nepal.
July 29, 2011 – 11:28 pm
Ya boy Grandmaster Chu and his Model Minority crew are BACK with a new mixtape and video premiere. I checked out the tracks and once again, it's high quality and a few tracks have already jumped into my playlist rotation. Check it out!
The PR…
On THE TIGER SONS, emcees D-One, Grand Master Chu, and Inglish continue to speak about the lives of young, modern, Asian-Americans with their signature wordplay. Humorous, self-deprecating, and thoughtful, they address a range of subjects from growing up in Asian-American households (Battle Hymn of the Tiger Sons), online romance (Twitter Girl), historical struggles against racism (Vincent Chin.), and drop bilingual party tracks like Xian Kan Kan Wo (a Mandarin cover of Chris Brown's "Look At Me Now") and Ooh It's Just Genetic, Girl.

The lead single from THE TIGER SONS, Invisible People (Where'd You Go?), and its accompanying music video, are dedicated to those people whose voices and stories have been lost or ignored. With a music video shot in San Francisco, directed by Angela Yu, the song sees the three rappers speaking out against injustice in the classroom, courtroom, and media.

THE TIGER SONS Tape is available for free download & streaming at http://grandmaster.bandcamp.com/album/the-tiger-sons

The INVISIBLE PEOPLE music video is online at http://www.youtube.com/watch?v=9tqpEF9-_lw

Contact links:

Model Minority - http://www.facebook.com/themodelminority

D-One (@DavidBFung) - http://www.youtube.com/davidbfung

Grand Master Chu (@JasonGLChu) - http://www.facebook.com/grandmasterchu

Inglish (@AndrewJFung) - http://www.youtube.com/andrewjfung
Shouts to GMC and the whole Dirty North, keep pushing! 加油,牛B!!
bizzle!
June 23, 2011 – 4:45 am
Hip-hop  +  ballet = ???
It's going down in Beijing June 24th, 7:30pm, address below. The world acclaimed choreographer Anthony Egéa (France) returns upon China's request to Beijing to fuse the worlds of ballet and hip hop modern dance together again. Some very good dancers here I bet, wish I had front row seats, ya smell me!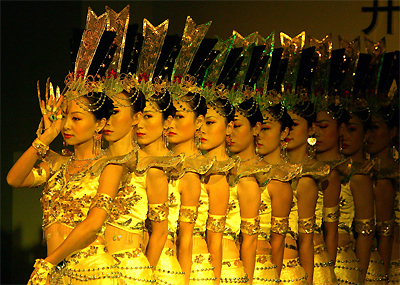 I think I know some of these girls from that video shoot with Sbazzo…hahah or maybe not. Hard to tell (in those outfits)
For ticket info click here
30 Beiwei Lu,
北纬路30号

5166-1145
Bizzle!