Monthly Archives:
June 2011
June 23, 2011 – 4:45 am
Hip-hop  +  ballet = ???
It's going down in Beijing June 24th, 7:30pm, address below. The world acclaimed choreographer Anthony Egéa (France) returns upon China's request to Beijing to fuse the worlds of ballet and hip hop modern dance together again. Some very good dancers here I bet, wish I had front row seats, ya smell me!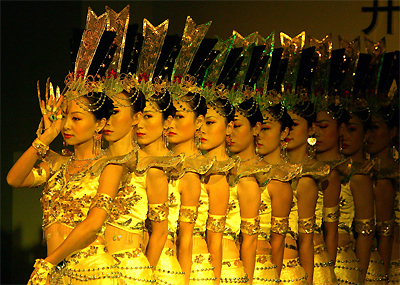 I think I know some of these girls from that video shoot with Sbazzo…hahah or maybe not. Hard to tell (in those outfits)
For ticket info click here
30 Beiwei Lu,
北纬路30号

5166-1145
Bizzle!
June 22, 2011 – 5:02 am
I still remember my first hip hop experience in Beijing (China for that matter) and it was at a Section 6 party at the original Yugong Yishan. I remember seeing XIV (Lao Zheng 老郑)of Yin Tsang in a wife beater screaming barely comprehensible Chinese lyrics and skinny ass Sbazzo flowing like nothing I'd ever heard before…and Young Keezy was selling CD's at the door…haha! Look at em now.
Needless to say from that experience, I was hooked.
Yin T'sang along with the many other OG's of Beijing hip hop scene like Lil Ray, Webber and IN3 still got the best hip hop party going (in China), and its happening again this Saturday night at 9pm. Just so you know its happening on the last saturday of every month at Yugong Yishan and officially "features freestyle rap performances from the voices of Beijing youth, street dancers from all over China"
I've dropped some flows here, its a great place to get your feet wet in the hip hop scene. Battles, new song releases, dance off's, and certainly some hot babes…its a partay its a partay its a partay its a partaaaaaaaay.
Go.
Saturday June 25th, 9pm-late

50rmb ticket

West courtyard former site of Duan Qirui Government,
3-2 Zhangzizhong Lu,

张自忠路3-2号段祺瑞执政府旧址西院
Bizzle!
June 15, 2011 – 3:45 am
Read about a new open mic at the Hot Cat Club and I know all the hip hop heads of Beijing are looking for a new spot to test their skills. Go check this out and serve some fools Xiao Bizzle style! plus you get some free courage juice for trying…thats nice.
Every Thursday head to the Hot Cat Club for one of the most inclusive open mic nights in the capital. Any style goes, and equipment is provided. Regular weekly performances by guest bands warm up the crowd. Free. Performers get a free drink.
Jun 16th @ 8:30 pm – 1am
134-8862-7454
Bizzle!